Page Created on: , by
admin
|
Here we go again.   The wanderlust and call of the road has been building up since our last big adventure.   Our trip in 2003-4 was a life changing experience.  Foreign cultures, ancient sites, and snapshots of past civilisations whetted our appetite for more.  Unfortunately, like everyone else, over the last seven years we've had to work to put a roof over our heads and food on the table.
So what's changed – RETIREMENT that's what!
We've put in the hard yards but Shirl and I have decided that before time slows us down too much, it's time to retire from our 'normal' work , get out there and experience what the big wide world has to offer.   Sure there's an element of danger riding a motorcycle around the world.  Those of us that do know the risks, but we also know the immense pleasures that await the intrepid motorcycle traveller.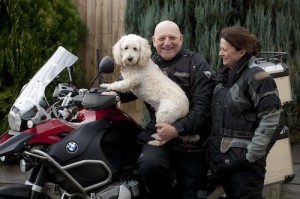 We are in our mid 50s and want to show our peers that if you really want to do something you can.  I see too many people our age too frightened to tackle such an adventure.  When you talk to them, they say "I wish I could to that" or "I can't do that because I have the garden to look after" or other similar lame excuse.   Then they start talking about how "lucky" we are.
If you really want to achieve something, in this day and age you can if you have the right level of commitment – that's all it takes.
We've had to find someone to look after the house, the dog and the cat – thanks Sonia – we've had to sell off cars and other non-essentials , organise our finances, insurances, medical evacuation insurance, inoculations, motorcycle freight, carnet de passage, Visa application (USA only at this stage) and close down a business.  So be it – We want to do this journey.
We are going to miss our children, Stephen and Gavan, their wives Alana and Nikki, and our wonderful grandchildren Austin, Beau, Valentino (Nikki and Gavan's boys) and Lila and Molly (Alana and Stephen's girls) along with the rest of our family but we both know we go with their blessing.   With the computer and Skype we'll still be able to see and talk to them every now and then.
Okay where are we going this time?  I have read other travellers' tales of South America and it is a continent we both really want to experience so that is our starting point. We'll ship into Chile, head South to Ushuaia, take a ship out to Antarctica then head north through Argentina, Uruguay, Paraguay, Bolivia, Peru, Ecuador and Columbia before heading into central America then North America, Canada and Alaska.  Then we'll head back through Canada and North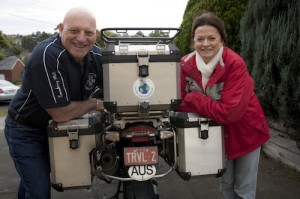 America to New York the ship to Europe, most probably London and head home via France, Spain, Morocco, Tunisia, Libya, Egypt then South through Africa.  The plan is to make our way to Durban in South Africa before shipping to Perth then riding home via Australia's iconic Nullarbor Plain and back to Melbourne.
We have no time constraints so we will be governed by the weather more than anything else.  The best time to see Antarctica is from December on.   The only time we can travel above the Arctic Circle in Alaska is July/August.  We want to avoid winter in Europe so we'll re-prep the bike and head south towards the Equator as soon as we can.
We estimate this adventure will take up to 18 months.
So let's go.
Leave a Reply