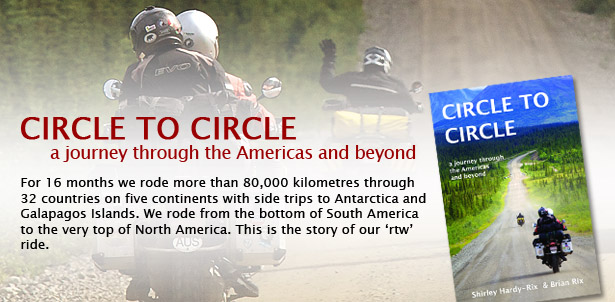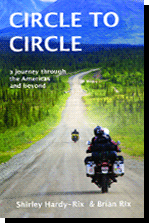 Postage and handling for up to four books within Australia – $12.00.
Overseas buys or if you'd like a different combination of books contact Brian & Shirley – [email protected]
There were still many roads to ride, so when Brian retired after 36 years as a police in Victoria we packed up our motorcycle and headed off for another adventure.
For the next 16 months, we rode more than 82,000 kilometres through 32 countries on five continents.
We rode from the bottom of South America to the very top of North America – from the Antarctic Circle to the Arctic Circle. We rode over 5,000 metre mountain ranges, through snow and ice, through deserts and tropics, enduring altitude sickness and a near catastrophic breakdown in the heart of bear country.
Circle to Circle is an inspiring and engaging account of the travels of an adventurous couple. It will entertain you in your armchair, or it may even inspire you to get up and go.
Praise for Circle to Circle
'If you cannot take off on a journey yourself, the next best thing is to check out somebody else's travel album. It's amazing where a bike and an adventurous spirit can take a couple of retirees.' The Age
'You may not want to leap on a motorcycle after reading Circle to Circle, but you will want to travel.' Herald Sun
'Circle to Circle will entertain you and may even inspire you to explore some of the world.' Australian Motorcycle News