We've been in North America for almost six months. During that time we've travelled through forests, mountains, national parks and arctic tundra. We've met grizzly and black bears, muskox, caribou and deer. And like everywhere we've been, we've made some wonderful friends. Two of them, Cath and Les, from Dual Sport Plus, are going to look after us for our last few days before we fly with the bike to Manchester.
We first met Cath & Les at the Overland Expo in Arizona back in May. We caught up with them again at the Horizons Unlimited Meeting in Barrie, Ontario a few weeks ago. On our first night with them they spoil us with yummy meat pies – a little taste of home!
Now we are joining them for Canadian Thanksgiving. We spend this holiday weekend with their friends at a small, remote and rustic cabin in the northern Ontario area of Bobcaygeon. Here the fall colours were amazing – the reds, oranges, yellows of the maple and oak trees were incredible, especially for those of us from the land of the gum tree.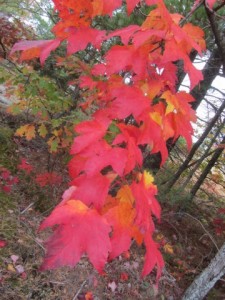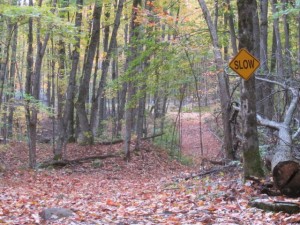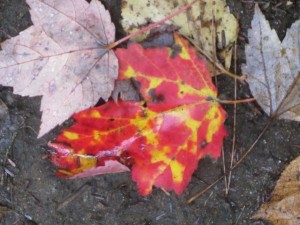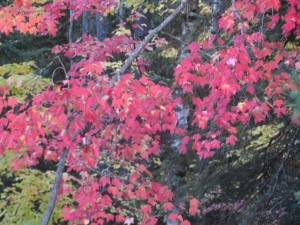 Cath & Les live on the shores of Lake Ontario, with incredible views across to Toronto. It looks marvellous during the day…
And very special as the sun sets…
Their condo is a short walk to the canal and lifting bridge that allows the 'lakers' access to the local industries.
When the time came to take the bike to the freight yard at Toronto Airport the process couldn't have been simpler. With just 24 ks petrol range we arrived at the airport and rode it in to the holding area, disconnected the battery and taped up the positive terminal. In half an hour we were on our way back to Cath & Les' place to get ready for our flight to Manchester.
Over the past 12 months we have travelled from the bottom of South America to the tip of North America. We've been to Antarctica and Galapagos. We've visited 19 countries and ridden 64,130 ks. It's been an incredible year – the trip of a lifetime.
Now we have to organise the next stage of our journey – Europe, Africa and home.