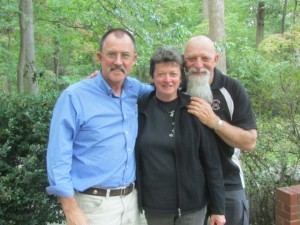 We wanted to visit Washington DC for two reasons. One was the history of the city but  the main one was to catch up with our old mate Ian McDougal, a television cameraman from Melbourne who has lived and worked in the US for 30 years.
On our way to DC we rode through Gettysburg – the scene of a major battle during the Civil War. As we look out across the fields that saw so many lives lost, how different a place the US would be if the south had been the victors.
In DC Dougs took us for a drive in to the city at night past the Capitol building and some of the prominent memorials. Washington DC is a city of memorials.
There are memorials for soldiers from all wars including the moving memorial to the thousands who died in Vietnam…
And the marines…
And the soldiers who fought in Korea.
And leaders from the past – the memorial to President Roosevelt depicts his lifetimes and immortalises some of his great speeches like the simple statement 'I hate war'.
But it was the memorial to the police and law enforcement officers who been killed in the line of duty that moved us most. More than 19,000 names are etched on the granite walls guarded by stone lions.
We visited Arlington Ceremony and had to wait as the funeral of an ex-serviceman passed us by. Apparently there are 30 or 40 funerals a day here. Throughout our time looking at the graves of President Kennedy and his family and the tomb of the Unknown Soldier you could hear volleys of gunfire.
The changing of the guard on the tomb of the Unknown Soldier is a serious ceremony where soldiers with the tiniest of waists march out and are inspected and their rifles given the white glove treatment.
Ian works for the local news services covering news in and around the Capitol. He gave us a special tour of the building, including a ride on the train that takes the country's politicians and their staffers from building to building underground.
In the Smithsonian Air & Space Museum Brian got to touch a piece of moon rock and we checked out some of the space craft and airplanes from yesteryear.
And we got to sit on Einstein's knee at the quirky larger than life statue commemorating a man of sheer genius.
When it was time to go we had to say farewell to good friends, yet again.  Thanks to Ian, Jill, Jacob and Matt and their crazy dog Doogie for making us feel so welcome in their home.
And a special thanks to Ian – when you get sick of the news beat you'll make a great tour guide in your Mustang with the very Aussie rego plate – Brumby!