May 5
Australia's Wall to Wall Ride for Remembrance is modelled on the Texan Ride for the Fallen. We'd planned our arrival in the States to take part in this ride.
Ian Marr even hired a Harley so he could ride and 20 NSW police flew in for the ride.
The Aussies rode alongside their Texan colleagues – remembering the peacekeepers who were killed in the past 12 months. Sixteen names were added to the memorial – 16 officers killed in one state in one year. It was a poignant moment when the honour roll was read.
Austin's Interstate Highway 35 was closed to traffic as the riders made their way to the Texas Peace Officers' Memorial near the historic State Capitol.
After the ride all the Aussies went for the ride of our lives. Led by the witty and charming Ron DeLord and his buddies Hans, JJ & Randall, we were given the tour of Texas only Texans can provide.
Luckenbach where, according to singer Jerry Jeff Walker, everybody is somebody was a taste of the old west. Cowboy boots and hats were the order of the day in Bandera.
The rain pelted down while we chilled at the Koyote Ranch in the hill country.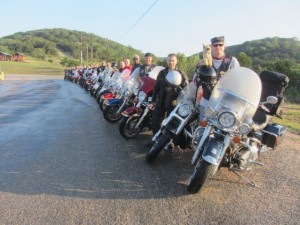 The locals bought out the horses and K9 unit when we arrived in Fort Worth.
And, of course, we visited the Alamo where Davey Crocket was the king of the wild frontier.
Ken and Milly came along for the ride and met Chuck the NSW police dog who was the mascot of the NSW ride to Texas.
On the last day the Victorians went to the grassy knoll in Dallas. Dealey Plaza, where President Kennedy was assassinated back in the 60s is today a museum to the President his family and his death – fascinating.
We loved every minute of our time around Texas, but the highs are always counterbalanced with the lows.   Saying goodbye was a sad time. Tears were shed especially when Shirl said goodbye to Phil. At home barely a day goes by when these two don't chat. There will be many months before they can do that again…