We'd seen a photo of the Basilica del Pilar in Zaragoza and decided to head there after our short sojourn at Oliva. Like so many places in this world, photos don't do it justice. Our first glimpse of the majestic building was at night.
While there has been a place of worship here for centuries, the Basilica dates back to the 16th century. Inside it is not as ornate as you would expect but the exterior is breathtaking whether it's night or day.
Also on the square is the wonderful Cathedral of San Salvador, known as Cathedral Le Seo. Its gilt altars and huge organ are befitting the building's 12th century Gothic building. Inside the Cathedral's collection of 14th and 15th century tapestries is also on display, but no photos allowed
This area of Spain was once known as Caesaraugusta , when the Romans lived here up to the 5th century. Today the foundations of the once great port city have been uncovered and some of the original protective wall that ran alongside the old part of the city.
From Zaragoza we headed to Pamplona, once the playground of Ernest Hemingway and still the scene of the infamous running of the bulls.
The narrow streets are deserted during the afternoon during siesta time.  At 8.30 pm the town comes alive as people come out for a late dinner or a couple of wines and tapas.
The annual running of the bulls is a time for young men to pit themselves against the bulls between the edge of the city and the Plaza del Toro – the bull ring. The statue depicting this unique event is a wonder to behold.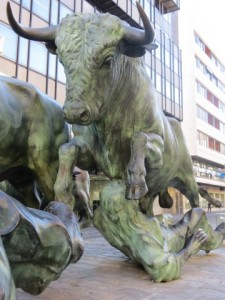 The faces of the runners and the bulls are magnificent.
It's getting cold now and we must head back through France to the UK so we can fly south for the winter!