November 23 and November 24, 2011
Leaving Chile Chico it's only a short ride to the border and yet another crossing – Chile to Argentina.   Each crossing is a little different.  This time, the young Argentinian immigration Officer takes her time reading every word of the Carnet de passage, cross checks the registration details on the original registration – (note to would be travellers – do not leave home without your original registration papers).  The similarly in-experienced customs agent does exactly the same – about an hour later and with all the appropriate stamps we're back in Argentina and heading back towards the famed Ruta40.
The wind is getting stronger and stronger as we head towards Perito Moreno.  The few hardy souls that live out here have planted poplar trees as wind breaks around their houses.  It's strange to see trees growing at an angle – pushed over by the constant Westerly gales.
After Perito Moreno, it's south on Ruta40.  The map shows Ripio from here on but road workers are in the process of sealing vast sections.   We are blessed with 30odd kilometres of good road before the dust, rocks and sand take over.  It's slow going and the wind gusts try to push us into the drifts of loose gravel and sand.  This riding needs concentration and forward momentum.  We struggle along at about 60 to 80 kilometres per hour – eyes peeled for loose sand drifts similar to bulldust holes.  Corrugations make the ride even tougher on our heavy bike.
Rolling into Bajo Caracoles we shelter behind the hotel from the constant battering wind and swirling dust. The settlement is a burnt out petrol station, the hotel, a hostel and a Police Station.  This makes William Creek on the Oodnadatta track look like a metropolis.  The hotel has two petrol pumps covered in stickers left by intrepid bikers from all over the world.  We leave our mark there too. The hotel rooms are clean so we have an overnight stay in the desert listening to the howling wind.  The only locals are road gangs and our host who is very obliging with cold local beer to wash away the dust.
We wake to a strange quietness – no wind!  It only lasts a short time and picks up and up and up to an estimated 140KPH!  Heading back out onto Ruta 40 we are surprised by another section of good tarred road for 40 kilometres before returning to dust, rocks and sand.  We pass a group of bikers heading North – a lone KTM and a gaggle of BMW's – the bikers salute and we battle on our separate ways.
The harsh landscape is unforgiving but a few Andean deer can be seen grazing on blades of grass.  We crest a rise and are greeted by a brilliant blue Lake back dropped by the snow caped Andes.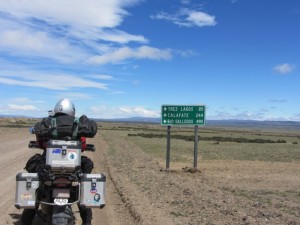 Tres Lagos is another small settlement clinging to the dust.  It doesn't look too    inviting so we look for fuel.  Just out of town – where the bitumen starts we find the petrol station, the owner tells us there will be no fuel for at least two days –  The parked BMW nearly blows over in the strong wind – I grab "the baron" just in time.   Thankfully the big GS adventure has a huge fuel tank and we have enough to get to El Calafate.
Back on the road, the wind has claimed yet another victim.  An empty trailer being towed by a tip truck has been picked up and blown upside down onto some Armco. The Carabineri are setting up red cones but need large rocks to stop them becoming missiles.   The ride into El Calafate is on tar – but the wind still makes it a battle.  We have survived one of the most famed roads for adventure motorcycling in the world as far as El Calafate. We celebrate our achievement.