October 31
We arrived in Chile on October 19 the bike is still on the high seas. We recevied the news that we probably won't get the bike until November 3 or 5 or possibly 7 – eek!
After a day in Santiago we headed to Con Con on the coast. It is a small, rundown seaside resort. Our room looks over the Pacific Ocean and has a balcony good for sitting in the sun and supping on fine Chilean wine. Well, we have to do something to fill in the time!
We've had a hire car, a very small hire car.   This has given us the opportunity to explore some of the coastal regions. We headed south to Valparaiso to see where the bike will land. One of the first things we saw was the Melbourne Cafe. It is a small coffee shop owned by a couple of guys who lived in Melbourne and love it. There are magnificent photos of Melbourne on the walls.  They even have a Melbourne Football Club footy money box for the tips. Jorg, Daniel and Jorg's wife Daphne have all been marvellous. Their business is growing. Australians  pop in every day. We've promised to ride by before we leave so they can see the bike.
Valparaiso is surrounded by high hills.  We took an Ascensor up to Artilleria Hill that overlooks the port and Naval Base.  Brian watched the organised chaos of the docks with ships loading and unloading and trucks with containers coming an going.  We have to negotiate customs and shipping clearance requirements in Spanish – this will be fun!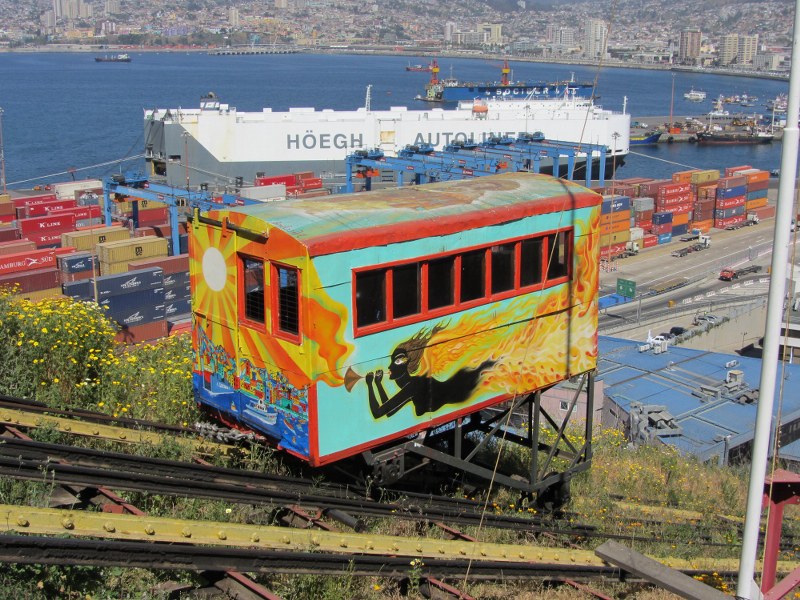 Another great spot was Zapallar, north of Con Con. It is a much wealthier town with gated communities of huge homes built on the cliffs overlooking the ocean.
The Pacific ocean rolling unheeded onto this rugged coastline makes for spectacular scenery, great beaches communities dot the coatline.  While the water may be a little chilly for us to swim in – it doens't deter the locals.
Right along the coast there are restaurants and bars just left to rot. Maybe the threat of tsunamis has been too much for some – or customers don't frequent them anymore but we can't imagine these prime locations languising in Australia.
SANTIAGO
Filling in time and trying not to get frustrated we head back to Santiago to return the hire car but also to explore this city of 6.5Million people.  Santiago lies at the foot of the Andes, the snow capped Andes are visible anywhere in the city (if the smog celars enough).  The strong Spanish and religous influences are everywhere.  Modern buildings tower over old world chuches, monastaries and buildings from a bygone era of spanish conquerors.
Modern Chile prides itself on its independence and honours the unlikely character Bernardo O'Higgins – the illegitimate son of an Irishman who established an egalitarian society in the 1830's.  Today,passionate Chileans are not afraid to vioce their feelings on the streets. Two days ago  riot police used tear gas to disperse student protesters.  They want free eduation for all Chileans! Not a bad ideal long past in Australia.  We see remants of the protest on the streets, riot police and armoured cars everywhere and the student headquarters daubed with Anti government slogans.
Despite their appearance – the Police are well respected and friendly to us anyway.
Now we head back to the coast to wait…