Leaving the glitter of Paris behind us, we move south to Orleans, the home of the Maid d'Orleans – Jean D'Arc. Situated on the Loire River, it is a rather beautiful town even in the cold weather of November.
The centre of the town is, of course, the cathedral. It's a mighty building that looks magnificent in the daylight and during the night.
The old town is bustling and we enjoy our time chilling out in the small bars and restaurants in town and meandering through the narrow lanes and streets.
We are in Orleans for Remembrance Day – November 11. At the 11th hour of the 11thday of the 11th month we are standing at the cenotaph as the band strikes up the Marseilles. It is a fantastic national anthem – especially for people like us who loved the Fitzroy Football Club and its team song!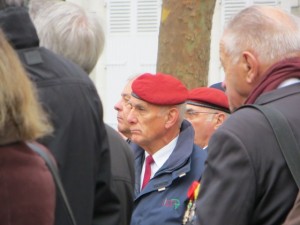 The veterans are there. The school children are there. The police are there and representatives of all the armed services. We are glad to join the locals as they commemorate the end of the war to end all wars.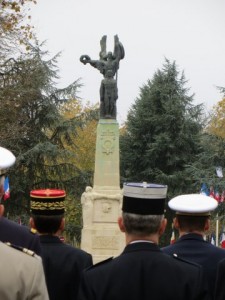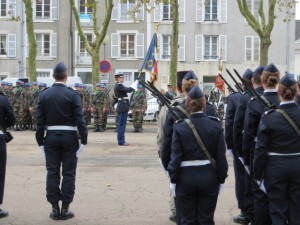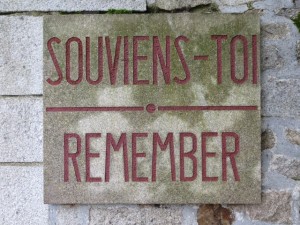 We head to Limoges and rather than visit the porcelain factory we visit the Village of the Martyrs – Oradour-sur-Glane. We are not sure what to expect. What we find is a harrowing reminder of the horrors of war.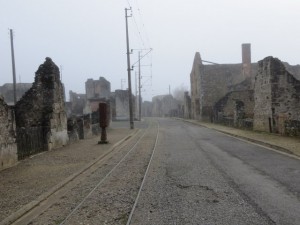 On June 10, 1944 200 SS came in to the tiny town of Oradour-sur-Glane. They systematically murdered every man, woman and child they found, buried some of their victims in mass graves and then burned the town to the ground. 642 people died – 197 men, 240 women and 205 children.  5 Men escaped by feigning death, one child hid in the school yard and one woman jumped from the torched church.
.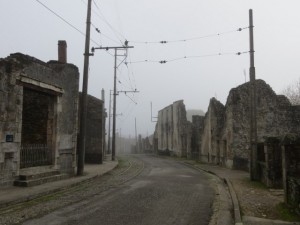 President de Gaulle was so moved by what he saw he ordered the village be preserved. 'The memory must be kept alive, for a similarly calamity must never occur again.' You can only enter the village through the Centre for Memory. You emerge into the village. The early morning fog  adds to the chilling atmosphere.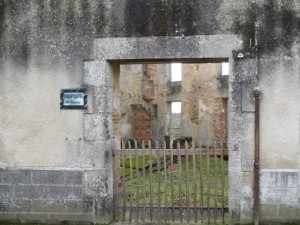 The walls are still scorched from the fires that raged.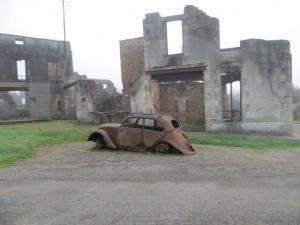 Cars are where they were parked on that sunny afternoon in 1944.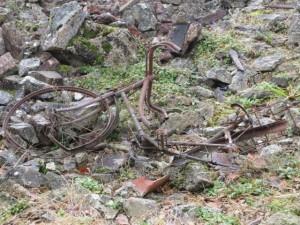 Remnants of bicycles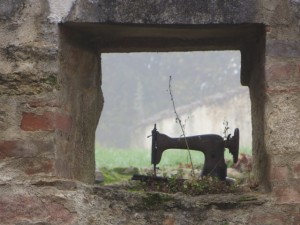 Sewing machines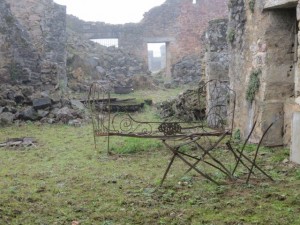 At every turn there are signs of everyday life that was ended for seemingly no reason at all.  It is a sobering experience.