Oregon is a paradise of mountains, trees and rivers
From Yosemite we take in a bit of the Wild West in Nevada's Virginia City. Complete with wooden footpaths and saloons like the "Bucket of Blood".  Mark Twain began his writing career here at a local newspaper. He is honoured with the local bookstore and a saloon being named after him.
The road takes us north to one of the most beautiful places on earth – the state of Oregon.
We are heading to Westfir for the Burning Moto Man Rally held by inveterate travellers Eric and Gail Haws. They open up their wonderful riverside property to travellers for one weekend each year. The weather was against them this year. It rained just about all weekend.
The weather didn't stop us getting to know Tiffany Coates who has ridden through almost every country of the world on her old R80GS and catching up with our old friends Ken & Carol Duval from Brisbane.
At the end of the weekend we had to make up a sign for Eric's signpost.
We took the back roads to Bend – riding through the Willamette National Forest, past Cougar Lake and then up to McKenzie Pass. This road is closed during winter and has only been open a couple of weeks when we ride it.
The road takes us through the lava fields.
Past the Cascade Mountains
Past the Three Sisters – very different to the sisters in our own Blue Mountains
We've come to stay with Steve Cunningham. We met Steve and his wife, Gayle in Argentina in November. It's great to catch up with Steve again. Unfortunately Gayle is on holidays.
But Ozzie is home – a delightful terrier who has a couple of quirky traits.
He loves helping when you are working on the computer
And he loves checking out the photos – especially when it is our dog, Jasper.
Steve's friends are a great bunch. We have fun getting to know them and there is another sad goodbye when we leave Bend and head north to Hood River on the majestic Columbia River.
Armed with local knowledge we avoid the main roads and head through the Santiama Pass at over 4,000 feet, and on to Detroit Lake. The local café is owned by a former motocross racer, Rick and houses his remarkable memorabilia collection. His collection of memorabilia includes a photo of Kiwi Bert Munroe and his "World's fastest Indian"
More back roads and then Mt Hood pops up behind the pine forests. Framed by trees and blue skies it is a breathtaking sight. At more than 11,000 feet, Mt Hood is the highest peak in Oregon…and it is gorgeous.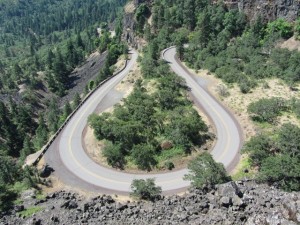 The road then takes us to the mighty Columbia River – and Hood River in the Columbia River Gorge.
The historic highway is a bikers' dream. It just doesn't get much more striking than this.